Shibaura Machine Celebrates Manufacturing Day
Injection Molding
Machine Tools
Die Casting
ELK GROVE VILLAGE, IL, October 1, 2021 -
Did you know modern manufacturing will generate approximately 4 million jobs in the next decade, with many roles going unfilled because of lack of skilled talent? With skills in high demand, these jobs will be well-rewarded.
Manufacturing (MFG) Day helps promote modern manufacturing careers and bring manufacturers together to address their collective challenges in order to help future generations thrive. MFG Day is an initiative of The Manufacturing Institute, with the Fabricators & Manufacturers Association as a founding partner. By working together, manufacturers like Shibaura Machine Company, America are able to connect with future generations and take charge of the public image of manufacturing to ensure the ongoing prosperity of the whole industry. Consider this day a celebration of modern manufacturing meant to inspire the next generation of manufacturers. 
What is Modern Manufacturing?
Today's modern manufacturing involves a whole lot more than just an assembly line. Manufacturing careers are all about skills and plenty of different career paths exist within the industry. Depending on what sort of manufacturing career you're interested in, the skills you'll need can be acquired with a four-year degree or an industry certification, which can often be earned in two years or less. Engineers, machinists, researchers, welders, fabricators, designers, and sales professionals are all important parts to the puzzle. HR, computer programmers, and marketing careers are also plentiful.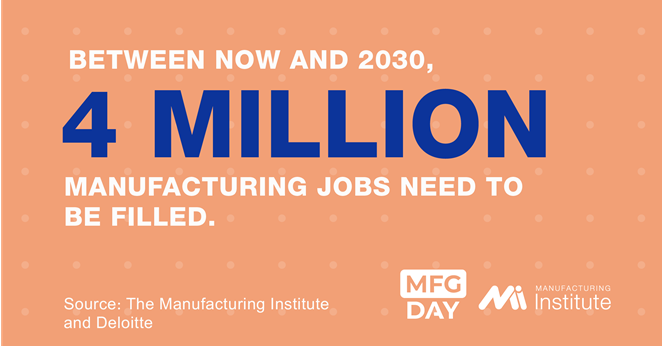 At Shibaura Machine Company, America we are passionate about modern manufacturing solutions to help solve our customer's biggest challenges. In the US, we have doubled our footprint by opening a new injection molding machine assembly facility in Elk Grove Village, IL. This allows us to meet increased customer demand and implement enhanced and accelerated quality control techniques.
Modern Manufacturing is Creating the Future
Each year Shibaura Machine Company, America opens its doors to share what modern manufacturing looks like to younger generations. With multiple entry points to manufacturing, the field offers a full spectrum of opportunities. A career in manufacturing allows you to combine practical problem-solving and creativity with exciting technology to design and build a better tomorrow.
Manufacturing is the critical economic backbone of a city, state and country. Shibaura Machine Company, America relies on product innovation and continuous process improvements through the collective teamwork of our employees in order to continue to serve our customers with the high-quality machine solutions they have come to trust. In doing so, our company is able to help industries like automotive, medical, aerospace, consumer goods, and more offer innovative and life-changing products.
By showing students, parents, and educators the opportunities, possibilities, and accomplishments that can come with a career in manufacturing, together we can continue to grow the U.S. manufacturing base.
Creators Wanted
The engineering origins of Shibaura Machine date back to 1875. Through the decades our mission has been to evolve, through the closest cooperation with our customers, into a value co-creating manufacturer. By jointly creating value based on our collective strengths as a machine builder, we have become a premier global manufacturer of a wide variety of innovative, precise, reliable machinery. 
We hope you will learn more about how you can get involved in MFG Day and join us in celebrating on October 1st! 
Want to know more about our machines?