How 5-Face Cutting Is Expanding Your Double Column Machining Capabilities
ELK GROVE VILLAGE, IL, July 11, 2022 - 
Manufacturers today are challenged with requirements of tighter tolerances from complex, multi-surface parts and the need for increased capacity to stay competitive. Being able to meet these requirements requires a machining center with increased precision, improved efficiency, cutting feedrate and spindle speed. 
With the pressure to constantly innovate and improve many manufacturers are looking for a solution for a machining center that can keep up with demand and produce high-quality workpieces. Shibaura Machine's bridge-type double column machine with a 5-face cutter attachment provides an ideal solution to enable high-speed production of workpieces while improving cost efficiency during the production process.
Gain Capabilities with 5-Face Cutting
The 5-face cutter allows manufacturers to machine a wide range of parts. This attachment plays an important role in determining the quality of the machine by pairing its rigid construction with easy operator accessibility. It is ideal for machining large workpieces, able to produce complex parts with increased precision. 
The 5-face cutter allows the operator to process any face of the workpiece, even in heavy-duty machining operations. Operators can move the spindle head direction with the attachment indexing function. This allows for increased efficiency because the workpiece does not have to be repositioned. 
Shibaura Machine's double column machining center with a 5-face cutter is designed to efficiently machine a wide range of parts. The machine saddle that supports the ram is one-piece precise casting ensuring extreme machine rigidity. One head has a vertical axis and a horizontal axis is attached to the ram spindle of the bridge mill, then the 5-face cutter head has an indexing attachment mechanism. 
Learn More
The versatility and rigidity of Shibaura Machine's 5-face cutter give manufacturers the ability to produce a wide range of larger, multi-surface workpieces with improved precision, efficiency, and production speed. 
To learn more, contact the Machine Tool Sales Team.
High performance Double Column/Bridge/Gantry type Machining Center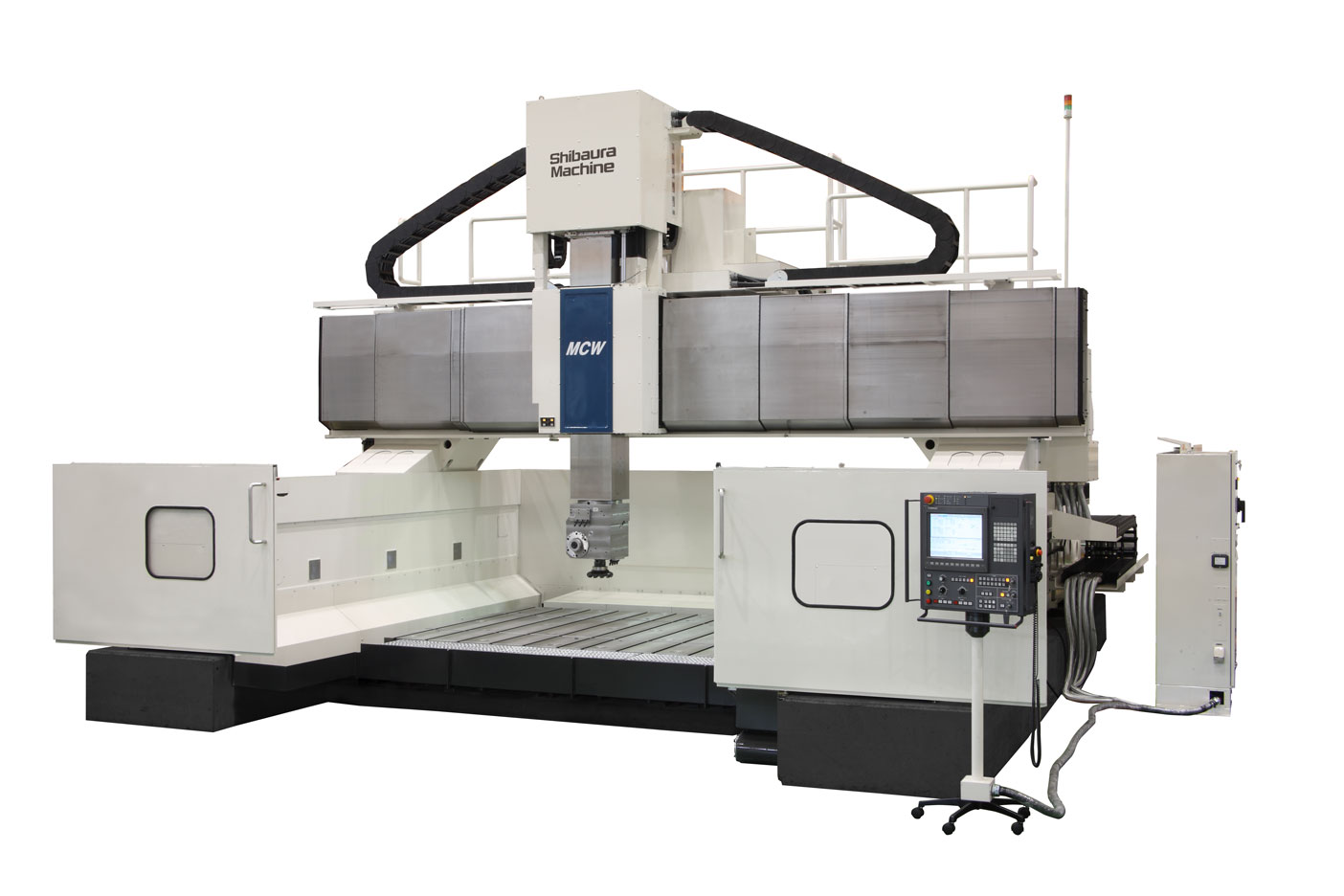 Want to know more about our machines?