Increase Double-Column Machine Capabilities With These Attachments
ELK GROVE VILLAGE, IL, March 28, 2022 - 
When it comes to choosing a double-column machine there are several considerations you'll want to take. Is it high-performance, does it provide the stability and power required to deliver uninterrupted precision? Can it meet the needs of process-oriented industries like aerospace, automotive, oil and gas, or energy? While checking these boxes is imperative, you will also want to consider the attachment system and variety of attachments that are available with the machine.
All high-performance, double-column machines from Shibaura Machine are configurable with automatic attachment changers to save valuable machining time and improve process tolerances. An abundant range of attachments are compatible with the machines, which allow for increased machining capability and includes a wider range of unique workpieces to be created.
Increase Machine Process Flexibility With Attachments
When your customer has big, heavy workpieces you look to your Shibaura Machine double-column machines to provide the rigidity and reliability to handle your production requirements. Below is a variety of attachments that can help further improve the machining process. 
ANGLE HEADS
A 5-sided machining strategy utilizing the angle head or fixed 30-degree angle head attachment will improve machine tool production and the accuracy of the workpiece by machining multiple surfaces in one setup.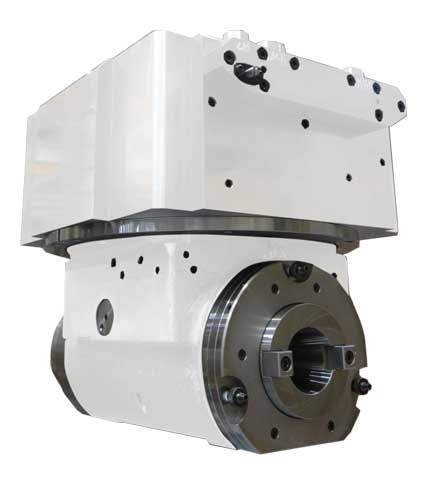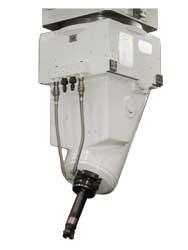 (Shown left to right: Angle head and 30-degree angle head)
SNOUT VERTICAL EXTENSION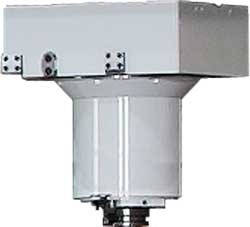 1 DEGREE INDEX HEAD
A 5-axes machining strategy utilizes a 1-degree indexing machine attachment with 2 rotary axes, which allows a vector cutting tool approach to reduce or eliminate complex workpiece fixturing.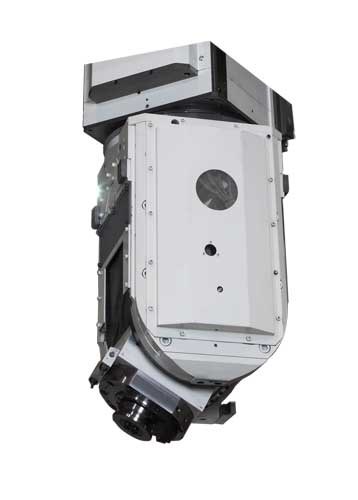 4 AXIS HEAD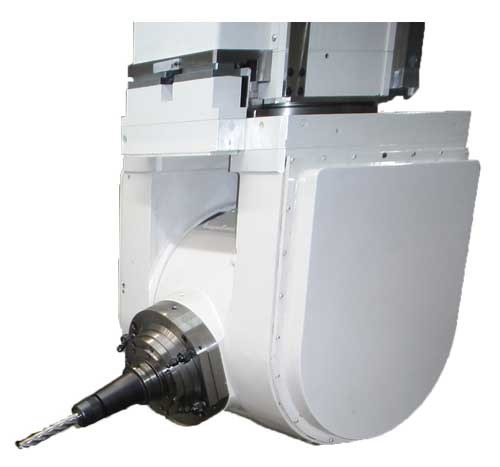 5-FACE CUTTER HEAD
This attachment plays a key role in determining the quality of the machine by combining its rigid construction with features that can not be duplicated. The 5-face cutter head allows for easy access to the workpiece for heavy-duty machining operations.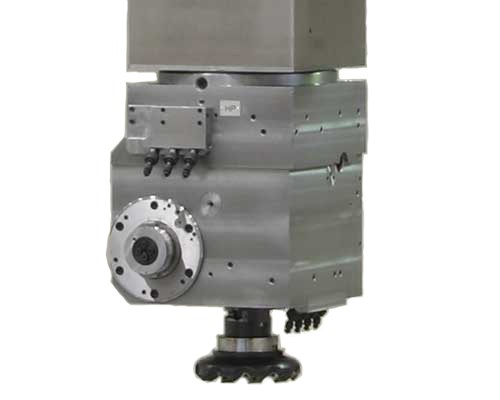 Automatic Attachment Changer (AAC)
The attachments are changed through the Automatic Attachment Changer. AAC automatically attaches and detaches attachments to and from the spindle securely and places them on the storage rack. All attachments are precision located to the ram face with curvic coupling for machining high accuracy and improving overall operational productivity.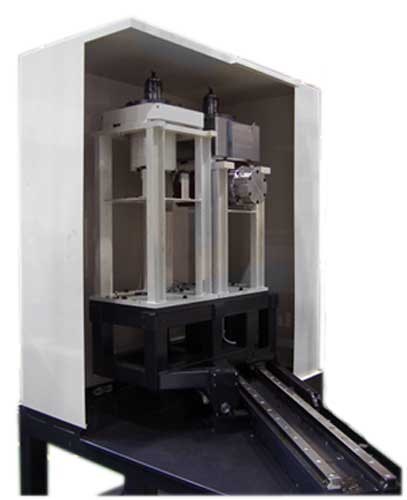 Let Us Help You Find The Best Attachment For Your Application
For over 50 years, Shibaura Machine has been building precision double-column machines for the most demanding applications in precision tooling. Our assortment of attachments offers customers increased machining capabilities and growth opportunities. Contact the Machine Tool team to discuss your requirements and let us help you find the best solution for your application. 
High performance Double Column/Bridge/Gantry type Machining Center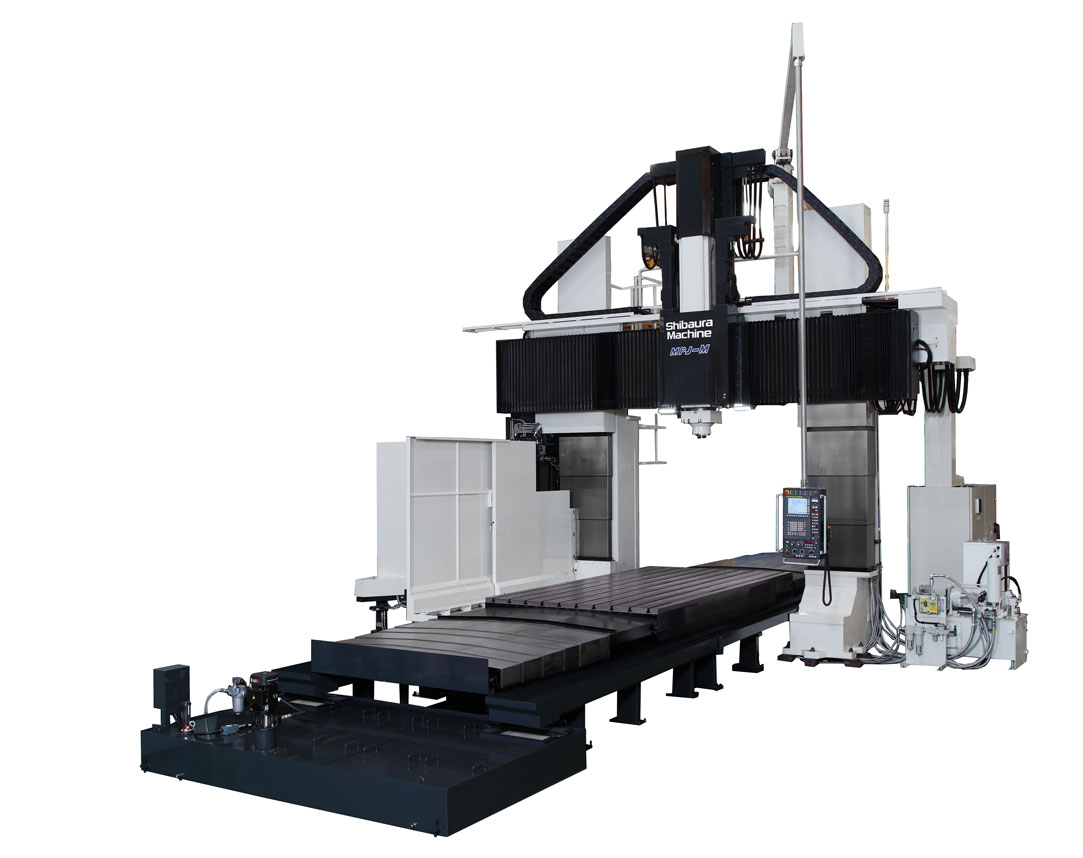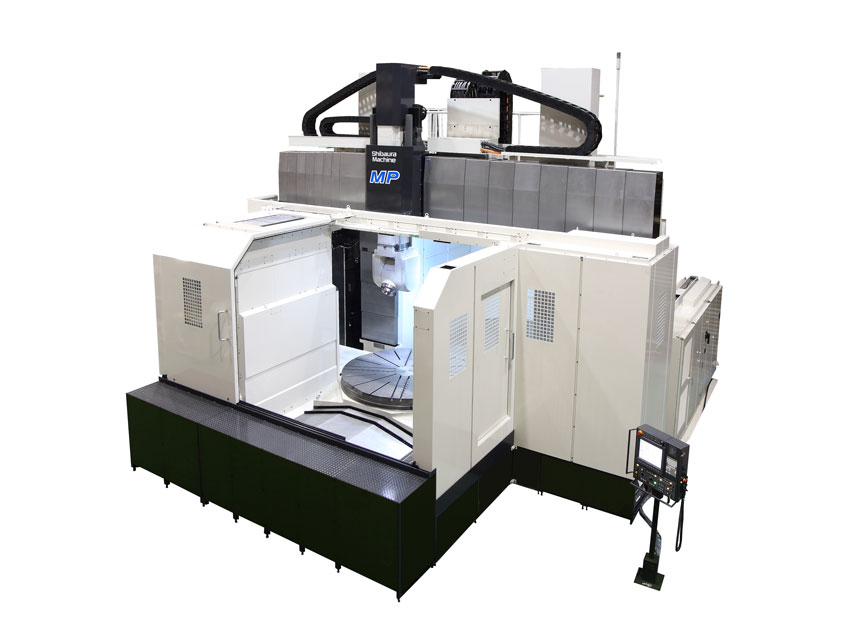 Want to know more about our machines?