Maximize Speed and Maintain Control with Tosnuc CNC Shape feature
ELK GROVE VILLAGE, IL, March 1, 2021 - 
When purchasing a new CNC Machine Tool many customers find themselves still not being able to machine complex workpieces as fast as needed due to inconsistent feedrates or tool chip loads.  Shibaura Machine has now developed a software feature that allows a smooth, fast, safe, and controlled machining operation every time.
Shibaura Machine took this into consideration when designing the CNC Shape feature on the Tosnuc CNC controller for our machine tools. The CNC Shape feature delivers higher accuracy, speed, and precision that are required in order to remain competitive. 
Increasing Production & Accuracy 
The CNC Shape feature offers Shibaura's machine tool owners higher performance capabilities in order to move their business forward. Several highlights include:
1.     Reduced Tool Path Errors
Reduces tool path error and eliminates cutting tool impact at a corner due to a delay of the axes servo system when machining a workpiece at high feedrates.
2.     High Axes Acceleration 
Successive blocks of a short line of tool path data used to mean High-Speed Machining wasn't possible. CNC Shape now makes it possible as this function is able to preview the workpiece profile and automatically changes feedrate to a productive rate with minimal effort.
3.     Improved Axis Feed Controls
After programming the maximum feedrate the axis feed is controlled to run at the highest possible feedrate allowed whether the workpiece profile is straight or curved. It automatically slows down the feedrate to a rate that will not have a negative impact on the machine system when the profile has a complex shape.
4.     Minimal Impact Speed Changes
The block look-ahead feature is used to optimize the feedrate of the machine to prevent a negative impact on the machine system by slowing down the feedrate from the preceding block when machining complex workpieces.
Shibaura Machine's Tosnuc 999 and PX200 CNC controllers featuring CNC Shape allow machining operations to maintain the highest programmed path accuracy and feedrate. Learn more about how CNC Shape features provide faster workpiece throughput while making high-quality parts.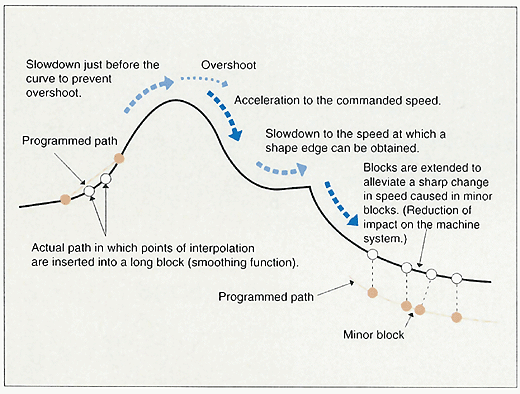 Contact us to see how Tosnuc CNC Shape feature helps your operations!
Want to know more about our machines?