Robot Integration Simplified With Shibaura Machine
ELK GROVE VILLAGE, IL, June 29, 2022 - Automating tasks with robots has become an increasingly popular option for injection molding manufacturers. From placing inserts into molds to moving parts through post-mold processes, robots provide process stability, faster cycles, and increased efficiency. 
With the addition of robots into production, operators are faced with learning new interfaces and in some cases having to replace core elements of their system to accommodate the addition. Shibaura Machine's injection molding machines all come standard with Euromap 67 Robot Interface which ensures customers an open production system by transmitting the signals between the robot and the machine controller. This allows for new robots to be easily added, allowing for optimized processes and reduced investment costs. 
Robot Control Made Easy
The Euromap 67 Robot Interface included on all Shibaura Machine injection molding machines provides communication with the robot of the customer's choice. The communication interface is included and the top of the machine's stationary platen is pre-drilled for easy mounting of a robot.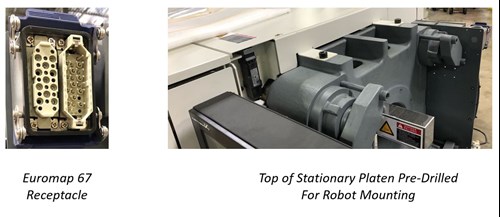 In order to improve ease of integration and exchangeability, customers can also integrate robot controls directly into the V70 controller. Using Shibaura Machine's VNC robot link, customers can set up, program, and control many industry-leading robot brands including Sepro, Star Automation, and Yushin directly from their main V70 controller. This allows for better management of the molding process and smoother production flow.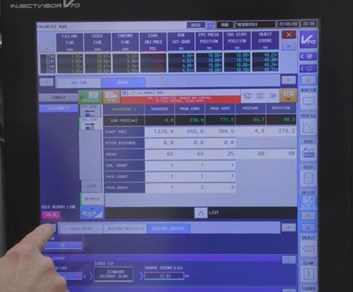 Seamless Machine/Robot Integration
Shibaura Machine's injection molding machines and V70 controller allow for a fully integrated production cell. Both the machine and robot can be controlled and monitored in one place, allowing for a simpler, safer, and easier operator experience.
Contact the Injection Molding team today to learn more!
Tel: (888) 593-1616 
Want to know more about our machines?