machiNetCloud Industrial IoT Now Included on New Injection Molding Machines
ELK GROVE VILLAGE, IL, June 22, 2022 - As the landscape in manufacturing continues to rapidly change due to digitalization, the Industrial Internet of Things (IIoT) brings a great opportunity to gain a competitive advantage in every form of production, including injection molding.
Smart manufacturing makes it easier to collect and analyze data, predict trends, and prevent problems before they arise. IIoT can provide a clear advantage in improving production efficiency, quality, and time to market. 
Shibaura Machine is pleased to now provide customers purchasing new injection molding machines with a one-year Silver subscription to our IIoT solution, machiNetCloud. machiNetCloud integrates to all machines, bringing real-time monitoring, reduced downtime, secure, remote technical support, and more from anywhere in the world.
Applications Built for Industrial IoT
Shibaura Machine's machiNetCloud solution provides injection molding factories the ability to save both time and money. With this new easily accessible technology and a lower barrier to entry, manufacturers can improve their overall equipment efficiency. Using machiNetCloud also provides timely, detailed data about production availability, performance, and quality.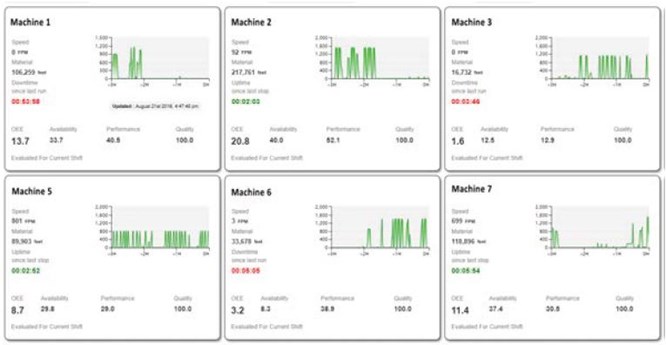 The applications available on machiNetCloud can be accessed at the factory or the mobile app- anytime, anywhere. These applications include:
Machine Insights*: Ongoing monitoring of equipment to access and analyze machine data and calculate your overall equipment efficiency (OEE) score.
Production Monitoring*: Oversee your entire manufacturing process and set real-time notifications to maintain product quality, avoid delays, and loss of revenue.
Remote Access*: Secure connectivity to technicians anywhere, anytime.
Downtime Tracking: Easy to understand reporting of the largest downtime sources and track the reasons for stop time.
Lifecycle Tracking: Improved predictive maintenance and machine utilization.
Recipe/Process Management: Track, monitor, and categorize the machine parameters quickly.
Quality Management: Track quality trends while taking a proactive approach to ISO 9000 compliance.
 *Machine Insights, Production monitoring, and Remote Access are included with the Silver Tier Subscription.
All the data that is gathered and analyzed provides a competitive advantage. For those in injection molding, the data and reporting can help ensure higher levels of repeatability in the molding process, increase quality consistency, and lower defects. 
Improve Overall Equipment Efficiency
Complying with international security standards, with high-level end-to-end encryption the machiNetCloud platform provides your company with a secure solution to explore the incredible benefits of smart manufacturing. The Silver Tier subscription is now included free for one year on any new injection molding machine. 
Start exploring greater manufacturing productivity and quality today by contacting the Injection Molding team today.
Tel: (888) 593-1616 
Want to know more about our machines?