Customize Your Clamping Sequence at a Touch
ELK GROVE VILLAGE, IL, June 17, 2022 - One of the steps to get the best results from injection molding requires the operator to properly set up the clamping sequence. Without an intuitive and visual experience, setting this up can be a time-consuming and difficult task.
In order to address this issue, Shibaura Machine offers the Customizable Clamp Sequence feature, now available on their V70 controller. The Customizable Clamp Sequence feature provides a screen for the operator to set up their clamping sequence with easy-to-understand visual icons used in a simple drag-and-drop process. This easy interaction reduces operator error, improves productivity, and results in less mold damage. 
Removing the Complexity of Clamp Sequencing
While a quick process that only lasts several seconds, clamping can be a complex thing. The basic function of the clamping unit is to open and close the mold and eject the product, however adding in additional functions such as air blow, cores, and ejectors can make it become a time-consuming task that is prone to error.
Using the Customizable Clamp Sequence feature, operators drag and drop to set up the desired sequence and can then save this data allowing them to repeat the sequence quickly in the future. Shown below, this operator is customizing a clamp sequence that can result in less machine downtime and mold damage.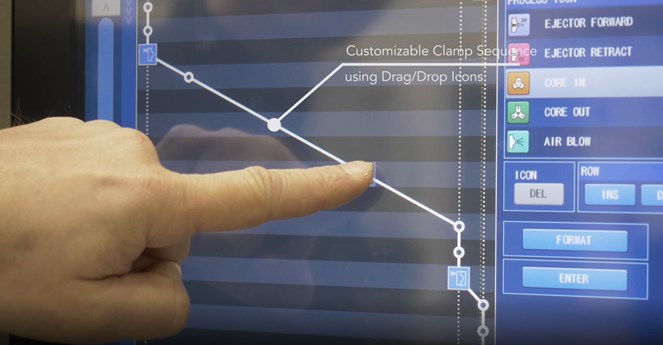 The process steps that operators are able to customize into a sequence include:
Clamp open and close
Air blow
Ejector actuation 
Core in and out
This feature also allows the user to make settings for special operations that otherwise are not shown on the V70 controller's main Clamp, Ejector, Core, and Air Blow screens. 
Learn More
The Customizable Clamp Sequence feature is easy to use and requires no additional software or hardware to accomplish non-standard sequences. As part of the V70 controller, injection molding customers can start using it immediately as part of their process and see the benefits of gained productivity and reduced downtime. 
Contact our Injection Molding team to learn more about this feature and all the benefits of the V70 controller. 
Tel: (888) 593-1616 
Want to know more about our machines?