Simplify Injection Molding Machine Maintenance with the V70 Controller
ELK GROVE VILLAGE, IL, February 9, 2022 - Performing preventative maintenance is necessary to ensure your injection molding machine longevity and process stability. However, when it comes to tight deadlines and the choice is between machine preventative maintenance and meeting production commitments, most companies will choose the latter. This can quickly lead to unplanned maintenance and downtime, at the end of the day hurting the bottom line.
With Shibaura Machine's V70 controller, technicians have the ability to reference the onboard Preventative Maintenance guide which offers a quick reference and help navigating both daily and periodic inspection requirements. The controller automatically prompts the technician to recognize the maintenance marker and offers a user friendly guide on how to perform these fundamental steps of inspection.

Simplify Preventive Maintenance
The goal of the Preventative Maintenance guide is to make inspections less cumbersome. Once utilized, this guide can help at reducing downtime while protecting your machine investment. The five important maintenance marks and their basic inspection requirements are outlined below. 
Weekly
At approximately 150 hours, inspections of the ejector system and heaters should take place. This includes an in-depth inspection of the ejector system, heater bands, and thermocouple insertion in the barrel. 
Monthly
Every 700 hours technicians should review specific aspects of the safety gates, mold installation bolts, barrel installation bolts, injection unit, barrel end cap and screw tip, machine lubrication, power supply, electrical wiring, air filters, and an overall machine cleaning. 
Quarterly
Around 2000 hours a thorough inspection of the timing belts is necessary. 
Semi-Annually
At the 4000 hour marker the guide will remind you to review the screw tip assembly and electrical components. It is also recommended for technicians to check the cooling fans on the control panel and cabinets, and perform an in-depth inspection of the machine lubrication.
Annually
8000 hours marks the annual inspection of the machine. This includes checking for abnormal noises and wear of bushings and sliding surfaces.
The Preventative Maintenance guide goes into complete detail as to how the technicians should perform these tasks. The guide provides the location to review, inspection method, and offers corrective action. Once the task is completed the notification can be reset.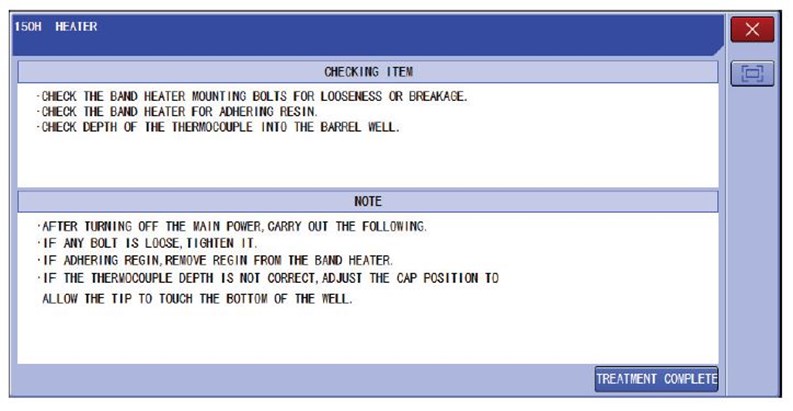 Improve Your Approach to Preventative Maintenance
Utilizing the Preventative Maintenance guide, inspections do not have to be cumbersome and will provide beneficial effects to your overall maintenance approach. The prompted maintenance that the guide walks the technician through can not only reduce the frequency of unplanned downtime, but increase the productivity of your operation and raise profit margins.
Contact the Injection Molding team to learn more about the V70 controller and all its time-saving features.
Tel: (888) 593-1616 
Contact us today to discuss how our preventative maintenance tools can help reduce unplanned downtime!
Want to know more about our machines?