Shibaura Machine Makes Core Pull on All Electric Injection Molding Machines Simple
ELK GROVE VILLAGE, IL, May 5, 2021 - Many molds rely on core pull in order to produce their final product successfully. Whether it's a hollowed out container, unscrewing features in the tool, or ejecting parts- the core pull feature provides shops a way to make products simpler and less expensive. 
Working to change the standard in injection molding, Shibaura's SXIII all-electric machines allow several options when it comes to including a core pull feature. First, the machines come standard with dual zone hydraulic core pull programming and interface. This allows the customer to add a portable hydraulic power unit (sold separately) to easily equip the core pull feature. In addition, a single zone pneumatic core pull (timer only) is also included on the machine as standard. Customers may also opt to use a servo electric actuated core pull in their mold, eliminating the need for hydraulics. Core pull not only improves team productivity, but compared to fully hydraulic machines these options are more energy efficient and clean. 
Invest in Only What You Require
With our standard core pull interface, this allows customers the ability to invest in only what they require. For example, if the core pull feature is not required or as new machines are purchased, the customer has the flexibility to add portable hydraulic units and even move them from machine to machine based on their scheduling needs. 
Shibaura Machine's portable hydraulic unit plugs into the standard interface for easy "plug and play" use because the programming is already included in the V70 controller. On Shibaura's 390 ton machines and below, the portable unit simply slides beneath the clamp end of the machine which minimizes the machine footprint (shown below).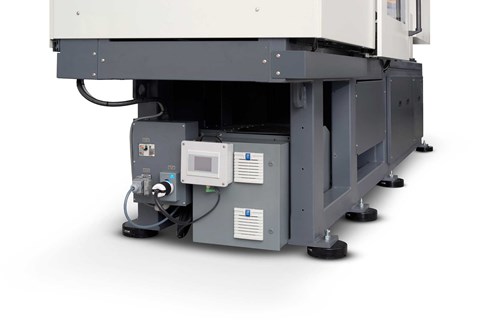 Gain a Competitive Advantage
Beyond advancing your molding capabilities, the core pull feature offers value that contributes to a better ROI for you and your customers. The core pull feature allows you to run complex molds more efficiently and accurately, while often rendering faster productivity. All of this translates into being able to offer a more accurate, competitive price for your customers and increased profitability for your shop.   
Contact our injection molding team to learn more about the SXIII all-electric series and the hydraulic core pull feature.
Contact us today to discuss your application requirements!
Want to know more about our machines?