How Automatic Load Cell Calibration Helps Prevent Molding Defects
ELK GROVE VILLAGE, IL, December 29, 2021 - One of the key advantages of all-electric injection molding machines is the ability to monitor actual plastic pressure during injection via a load cell behind the screw, without the need for in-mold transducers.  Proper calibration of this key component is crucial, yet it is often underrated and misunderstood, making it commonly overlooked. However, if your injection molding machine's load cell is not calibrated properly it cannot provide a true and accurate measure of injection pressure. This can lead to unforeseen molding defects negatively affecting productivity.
Shibaura Machine provides automatic load cell calibration for the all-electric SXIII series injection molding machines with the Load Cell Automatic Calibration Circuit function on the V70 controller. This function allows the user to automatically calibrate the load cell to detect the injection pressure and shows the history of the past twenty calibrations. 
Improving Part Production
One of the main goals in injected molded parts is keeping them identical from run to run. Load cells generally provide precise measurement results and accuracy. Over time, load cells may deteriorate with continuous usage and therefore provide less reliable data. A reading that is out of tolerance indicates that calibration is needed. 
With routine calibration you can ensure accurate measurement readings are being taken.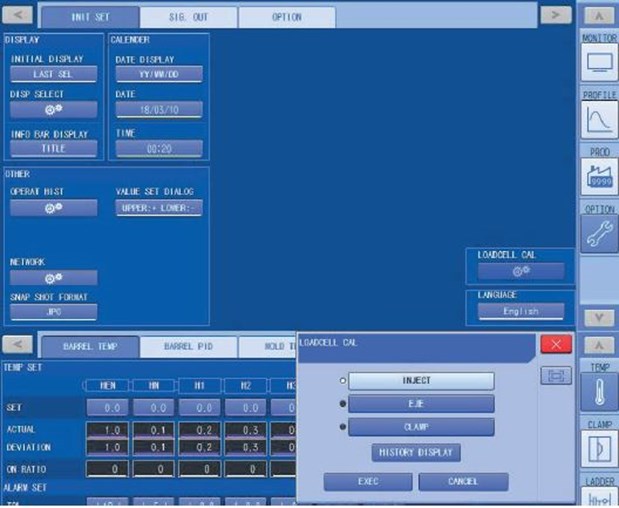 The process of calibrating load cells has long been complicated, leading to loss of time and revenue. Using the Load Cell Automatic Calibration Circuit helps ease the process and improve overall part production. The function automatically calibrates, removing the complexity and allowing plant personnel to focus on other areas of the manufacturing process.  By being able to detect the injection pressure and automatically calibrate, the load cell can better maintain its correct zero point which provides more accurate results.
Easily Maintain Load Cells
Learn more about the Load Cell Automatic Calibration Circuit function and all the ways the V70 controller is working to improve maintenance of the SXIII all-electric injection molding machines. Through automatic functions like this, maintenance takes less time away from machine operation and improves overall part production. 
Learn More
Contact Shibaura Machine's injection molding team to learn more about Automatic Load Cell Calibration and all of the V70 controller's capabilities on our all-electric injection molding machines.
Tel: (888) 593-1616 
Email: im-success@shibaura-machine.com.
Contact us today to learn if the Load Cell Automatic Calibration Circuit can help your team minimize machine downtime!
Want to know more about our machines?