How the I/O Checker Minimizes Machine Downtime for Injection Molders
ELK GROVE VILLAGE, IL, December 21, 2021 - Creating injection molded parts not only requires a high level of technical expertise, but also attention to detail. One small mistake can slow down, or even stop production.
How many times this year have machine disruptions slowed down or stopped your production?
Fortunately, the V70 controller on the SXIII all electric injection molding machine offers several solutions to analyze and troubleshoot with ease. This week we are highlighting the I/O Checker function which allows for shops to easily see the real-time status of machine input and output signals, which is an invaluable tool for quick troubleshooting of the machine. 
Troubleshooting at Your Fingertips
Injection molding is already a complex enough process, the controller behind it shouldn't be. From the beginning, Shibaura Machine has placed emphasis on creating a controller that is easy to use and simplifies the machine. The user-friendly V70 controller offers an I/O checker tab within the Diagnostics and History screen to allow operators real-time visibility into the status of all input and outputs coming from the machine.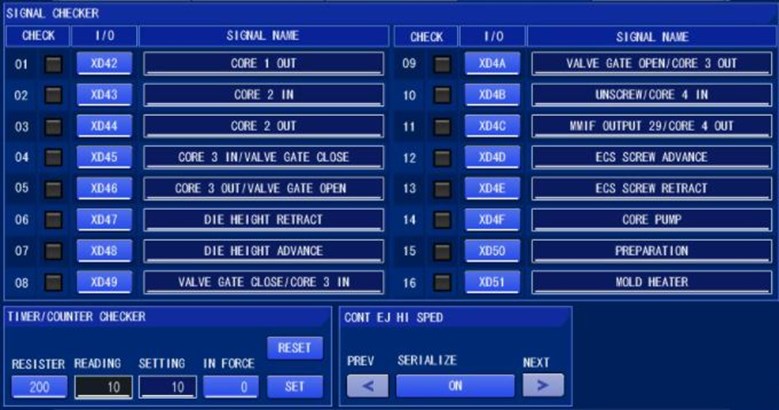 Being able to access this type of information easily in real time can make all the difference in decreasing downtime and increasing efficiencies. Not only does it empower plant personnel to make smarter decisions and fix issues quickly, but it allows Shibaura Machine's team the ability to troubleshoot with customers over the phone and assist them in getting their machine back in operation. The time the I/O checker saves plant maintenance personnel can help reduce lead times and aid in achieving your overall production goals.
Start Improving Your Troubleshooting Process
We realize the easier it is to access accurate information, the quicker the machine can get back up and running. The I/O Checker on the V70 controller is not only easy to understand, but will quickly provide your maintenance team invaluable information to diagnose machine problems that may occur.
To learn more about all the ways Shibaura Machine is working to minimize injection molding machine downtime contact our team today.
Learn More
Contact Shibaura Machine's injection molding team to learn more about the I/O Checker and all of the V70 controller's capabilities on our all-electric injection molding machines.
Tel: (888) 593-1616 
Email: im-success@shibaura-machine.com.
Contact us today to learn if the I/O Checker can help your team minimize machine downtime!
Want to know more about our machines?