How the Mold Guide Makes Set-Up Simple and Efficient
ELK GROVE VILLAGE, IL, December 16, 2021 - Installing a mold in an injection molding machine is a routine process. However, even when tasks are routine, mistakes can be made. Being able to perfect mold change-overs and lessen mistakes can not only help improve productivity, but decrease scrap rates and the need for rework.
Shibaura Machine's V70 controller features a Mold Guide to provide molders preparation of molds with step-by-step guidelines. The Mold Guide is extremely useful for those new to injection molding and it can help to keep procedures top of mind for experienced molders. The guide provides molders direction on each step to take and what to look for before setting up a mold in the all-electric SXIII. Utilizing the guide can result in fewer mold set-up mistakes and speeding up changeover, which ultimately leads to cost savings.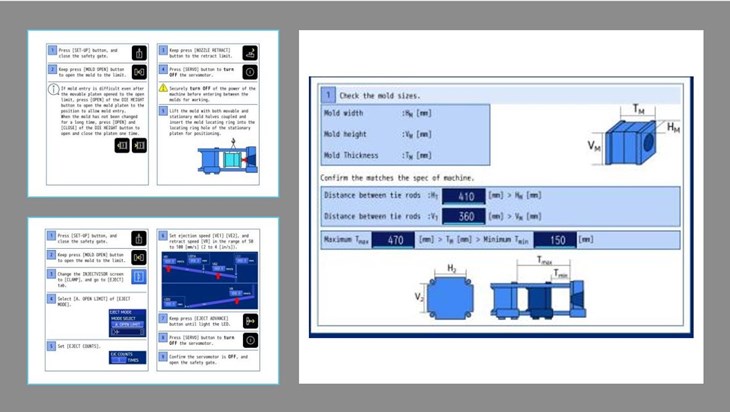 Making Mold Set-Up Simple
The Mold Guide at its most basic is showing what a molder needs to know before setting up a mold in the machine. The user interface is easy to navigate, with steps clearly marked and relevant instructions for each process located within the tabs.
The three main tabs displayed are for set-up preparation, ejector set-up, and mold set-up. The tabs can be clicked on to further display detailed instructions to ensure the mold and ejectors are properly set up. From selecting the correct ejector rods, position set points, standard bolt depth, and outlining the proper mold protect procedure this straightforward instruction allows molders to efficiently prepare the mold knowing it is done right the first time.
Start Improving Production
Mold set-up will always be part of the injection molding process, but that doesn't mean the machine has to sit idle for longer than it needs to. The Mold Guide on the V70 controller ensures that steps are properly completed and helps avoid unnecessary shut downs.
Using the Mold Guide gives molders the ability to reduce set-up preparation and more efficiently prepare molds. Especially for new molders, this can result in improved production and profit margin. To learn more about using the Mold Guide on the Shibaura Machine V70 controller, contact our Injection Molding team today.
Learn More
Contact Shibaura Machine's injection molding team to learn more about the Mold Guide and all of the V70 controller's capabilities on our all-electric injection molding machines.
Tel: (888) 593-1616 
Email: im-success@shibaura-machine.com.
Contact us today to learn how our SXIII series can help your team minimize mold set-up time!
Want to know more about our machines?