How to Bring Digital Six Sigma Process to Your Factory to Reduce Downtime
Injection Molding
Machine Tools
Die Casting
Digital Services
ELK GROVE VILLAGE, IL, July 28, 2022 - 
What strategies has your factory taken on to reduce the amount of unplanned downtime due to machine issues? From preventative maintenance to redundancy, and even increasing planned downtime to reduce unplanned downtime- these strategies all come at a cost to the manufacturer. And while many manufacturers have implemented process control techniques such as "Six Sigma" to capture insights, this can come with its own inaccuracies and inefficiencies.
While Six Sigma in theory can allow OT staff to develop a thorough knowledge of downtime events, manual data collection creates missed opportunities. Not only is this process tedious but it is often inaccurate and virtually guarantees a misreport of data. Operators are commonly rushed to resume production, record less than the full downtime or round numbers, and data is easily lost in translation. In the quest to maximize Overall Equipment Effectiveness (OEE) and plant productivity, in balance with the cost of their maintenance strategy, Digital Six Sigma to reduce downtime is now being employed by many manufacturers.
Correctly Capture Insights and Measure Change
With your machines creating data at every turn, being able to use automated tools to organize and analyze it all empowers your team to better determine maintenance needs and most importantly gain a competitive edge with improved uptime.
Shibaura Machine's machiNetCloud Industrial Internet of Things (IIoT) solution provides the ideal platform in today's market to accurately capture machine runtime, track downtime while recording reasons, and analyze all the data in order to optimize production in the most cost-efficient and practical manner. In short, machiNetCloud and IIoT bring Digital Six Sigma easily to the manufacturer. The Downtime App allows your factory to take the analysis a step further, by showing exactly how much the investment in a change has paid off. Additionally, operators are able to add downtime reason codes with just two mouse clicks using an easy-to-use companion app specifically designed for machine operators, for the events that are not possible to be captured within the automated system.
When considering implementing Digital Six Sigma to reduce downtime, you should look for the following features:
Real-time downtime visualization that verifies the downtime reasons assigned by the system

Automatic Pareto analysis for one machine - or the entire floor - to quickly get to the root cause of the most damaging downtime events
Being able to understand how long and how often a particular error code (or set of codes) occurs on a machine and how long it takes to repair it by having the system generate Mean Time Between Failure (MTBF) and Mean Time To Repair (MTTR)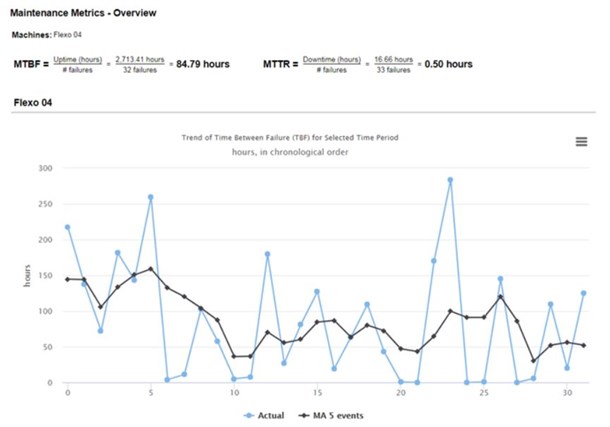 Automatic SMS or email alerting to notify yourself or your teams of events that need attention


Using Digital Six Sigma for downtime tracking can prove indispensable to allow factories to save money and enhance operational performance.
Start Improving Processes Quickly
We've made reducing downtime easy and user-friendly so you can get to the bottom of your issues and have a better understanding of how to improve your process. With machiNetCloud's Downtime Tracking App, manufacturers can implement Digital Six Sigma in order to accurately identify the issues causing setbacks, outages, and downtimes, and understand how they impact a machine's OEE.
Contact the Digital Services Division to learn more about using Digital Six Sigma to reduce downtime.
Want to know more about our machines?