How IIoT is Improving Six Sigma
Injection Molding
Machine Tools
Die Casting
Digital Services
ELK GROVE VILLAGE, IL, July 15, 2022 - 
Over the years, Six Sigma practices have created billions of savings for the manufacturing world. Working towards the fundamental goal of creating the most efficient system possible and eliminating waste, Six Sigma processes have been adopted around the globe by manufacturers large and small. It has been, by anybody's standards, a resounding success. But that is not to say that Six Sigma cannot, or should not, evolve.
For Six Sigma fans, the Industrial Internet of Things (IIoT) brings whole new opportunities to make better what they love already: a way to facilitate fact-based decisions in order to set, manage, and verify goals, while creating a culture revolving around continuous improvement. Applying IIoT to continuous improvement processes like DMAIC (Define, Measure, Analyze, Improve, Control) enables quick, easy-to-digest, detailed information across the entire enterprise. These insights can bring new ways to solve DMAIC challenges and appropriate new methods for removing waste and reducing defects.
IIoT Brings Continuous Improvement                                  
Evolving the Six Sigma process with the sophistication of IIoT technology can further reduce the margin for error and continually improve efficiencies. IIoT provides data and analytics that improve the effectiveness of Lean Six Sigma programs and Kaizen teams. Allowing more angles of the manufacturing process to be scrutinized and subjected to that circle, IIoT brings continuous improvement to the DMAIC Cycle, adding value at every phase.
Core Phases of DMAIC Aligned with IIoT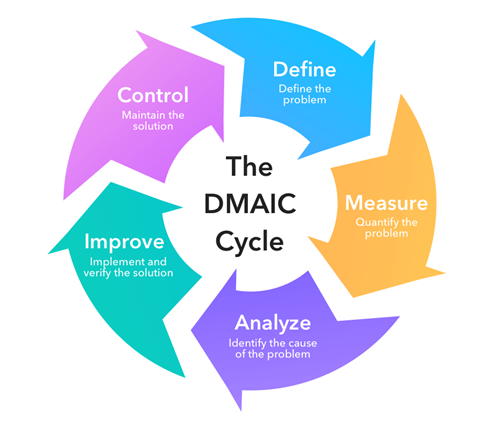 DEFINE
Finding a meaningful but manageable problem that impacts the customer and factory requires the ability to confirm the problem is a priority and will have a sustainable impact. Oftentimes this problem can change from batch to batch or even part to part, but without IIoT it can be hard to keep up with continually changing goals.                                                
Shibaura Machine's IIoT solution, machiNetCloud, allows managers to set performance standards easily and ensure identical parameters are applied uniformly - whether it's a single machine or multiple machine operation. Definitions set digitally on the machiNetCloud platform will apply to all in the same manner. This provides easy to access real-time information which can be reviewed and changed continuously based on goals.    
MEASURE
While measurement techniques have evolved over the years, many still require manual intervention. However, automation  has now brought us to a level wherein many cases "100% inspection" is possible and also economically viable.
The machiNetCloud platform allows users to measure continuously and automatically as part of the process control flow. The data is collected centrally and can be visualized and inspected by appropriate users for every machine, production line, and even across multiple factories.
ANALYZE                              
The third step of the Six Sigma process identifies the causes of process deviations. Is the machine showing signs of wear and tear? Is the process running against physical constraints? Is there a material issue? A process issue?
With machiNetCloud IIoT platform, analysis is continuously happening as the real-time process data is collected. Taking it a step further, alarm conditions can be set to create alerts for measurement outside allowable tolerances and failures can be traced back to identify the root cause.
IMPROVE
How will the team fix the problem and verify the solution? In order to efficiently pilot process changes, implement solutions, and gather data to confirm there is measurable improvement a structured approach is required.
With a fully integrated IIoT system like machiNetCloud, actions can be implemented on real-time systems and monitored for effectiveness. Leveraging IIoT to this extent allows for a more effective and efficient effort in implementing changes.
CONTROL
This phase is the key to success. Once you have improved, how do you sustain it?
While Six Sigma uses Statistical Process Control (SPC) tools to provide ongoing control tools to operators and managers, machiNetCloud takes it a step further. The necessary charts are provided at unprecedented speed and precision, through dashboards and "andon" displays making the process intuitive and easy to understand.
Ready to Improve?
Your machines are creating data at overwhelming rates and making the best use of the data is now a necessity to maintain a competitive edge. Using machiNetCloud Industrial IIoT solution to evolve and amplify your Six Sigma process will not only allow you to better reduce waste but increase machine utilization factory-wide.
Contact Shibaura Machine's Digital Services Division to learn more about leveraging Digital Six Sigma in the age of IIoT with machiNetCloud.
Want to know more about our machines?