Reduce Targeted Porosity in Your Die Casting with Shibaura Machine's Squeeze Master
ELK GROVE VILLAGE, IL, March 24, 2022 -
One of the great advantages of die casting is that without multiple operations, complex shapes can be achieved with minimal waste and scrap in an efficient way. However, certain geometries and features are impossible to obtain from an as-cast part and require additional efforts to reduce and move hidden porosity, especially when adding secondary operations such as drilling or boring. The addition of squeeze pins to the die tooling can be used to reduce and move this hidden porosity to reduce the scrap produced while adding value in a secondary process.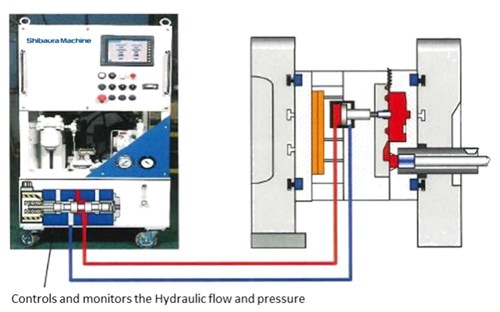 As an effective method to control and monitor the squeeze pins when designed as part of the die casting die, Shibaura Machine's Squeeze Master creates a more capable process. The Squeeze Master allows factories to not only reduce and move hidden porosity, but reduce scrap and improve OEE of secondary operations. Providing targeted squeeze pressure in the most critical locations with more than 3x that of casting intensification pressure, it offers manufacturers an extremely efficient method for producing quality parts reliably with the lowest levels of porosity. 
Reduce Porosity in Target Locations
When it comes to drilling and boring parts after casting you want to make sure porosity is as reduced as possible in specific locations. Two-phased pressuring and other methods oftentimes won't be able to offer exact control of the process in order to squeeze specific critical locations. Shibaura Machine's Squeeze Master is a control and hydraulic pressure system that allows targeted control of the squeeze pins at the highest level of pressure in order to squeeze critical locations in die tooling of molten metal while solidifying which reduces or relocates porosity.
Using the Squeeze Master it is possible to ensure high quality with less porosity because proper volume of molten metal is supplied for solidification shrinkage through direct pressurizing. Die designers can add squeeze pins in the die tooling when a part knowingly has porosity in a specific area. This process must be used with a modified die cast die that has squeeze pins as part of the tooling. Then, at the end of the shot and during intensification the Squeeze Master will activate the squeeze pins at extremely high pressure, squeezing the targeted area in order to reduce or relocate the porosity.
Learn More
If you are looking for ways to further reduce targeted porosity the Squeeze Master is an efficient and easy to use solution.
Contact the Die Casting Team to learn more about how the addition of the Squeeze Master can improve your manufacturing capabilities.
Want to know more about our machines?