Improve Your Vacuum System and Reduce Porosity with TOSCAST Monitoring
ELK GROVE VILLAGE, IL, March 10, 2022 -
When low porosity, high quality castings are required, using a vacuum system is an excellent option.
Vacuum pressure die casting allows factories to produce parts with predictable and repeatable mechanical properties by reducing air entrapment. However, the successful use of a vacuum system requires quick and accurate control of the vacuum valve paired with precise timing of its cut off. Therefore, being able to easily display, monitor, and qualify the vacuum level is instrumental in controlling the process.
Normally controlling the process, especially monitoring the pressure in the die, is extremely difficult. Shibaura Machine offers customers a solution to this problem with the TOSCAST controller. TOSCAST controller optional vacuum monitoring allows operators to automate the process of their vacuum system increasing productivity and quality.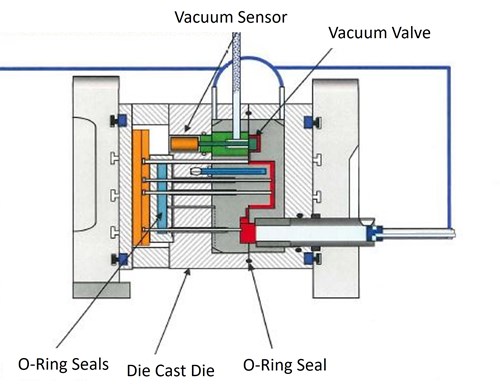 Vacuum Monitoring Made Simple
Using vacuum monitoring can not only reduce porosity, but also increase yield in parts. Being able to monitor vacuum pressure helps ensure a more repeatable, precise process.
TOSCAST controller was engineered with the idea in mind that if you can measure it, the system can record it. In the case of vacuum monitoring all the operator needs to do is place a vacuum sensor on the die cast die or in the piping after the control valve and TOSCAST controller will detect, display, monitor, and evaluate the vacuum readings. 
The vacuum monitoring on the TOSCAST controller allows the operator better control over the process. For example, the monitoring and recording can alert operators to problems in the valves, filters, and pumps of the vacuum assist system. This information allows operators to pause production and fix issues before non-conforming castings are produced, wasting time and money.
Learn More
TOSCAST controller helps operators reduce porosity in die casting with ease. Using the onboard touch screen, it is simple to measure, monitor, and display data transmitted from the vacuum sensor. Improve the repeatability of low porosity, high quality parts with your vacuum system by complimenting it with the vacuum monitoring capability found on TOSCAST controller.
Contact the Shibaura Machine Company, America's Die Casting team to learn more about how the TOSCAST control can help Reduce Porosity.
Want to know more about our machines?