How the Electric Servo Motor is Saving Cycle, Space, and Maintenance in the Die Casting World
ELK GROVE VILLAGE, IL, January 19, 2022 - 
The die casting world continues to evolve and with that comes improved technology. Electric servo motor driven machines continue to become increasingly popular because they Save cycle time, Save space requirements and Save maintenance overhead. 
Shibaura Machine's Die Casting E-series has replaced the traditional moving platen hydraulic cylinder with a well-engineered electric servo motor, amplifier, and ball screw while maintaining the proven mechanical toggle clamping system. Designed by our team specifically for the DC1100R-E and DC1350R-E machines with proprietary technology allows industries to succeed and remain competitive with faster operations and improved energy efficiency.
The Benefits of an Electric Servo-Motor Driven Machine
Compared with traditional hydraulic systems, electric servo motors allow for an innovative way to reduce carbon footprint and improve overall productivity. At the same time, servo technology itself enables higher efficiency with a low-inertia motor that delivers faster performance and higher reliability.
The E-Series in the 3S World
Save Cycle
Moving to an electric servo motor technology affords the operator more programmability of exactly where the platen should stop and reduces cycle times compared to traditional hydraulic machines. 
Save Space 
The closing of the moving platen is now performed by the electric servo motor, which reduces the size requirements for the hydraulic oil  tank and motor. This equates to a more compact footprint and allows the tank to fit under the machine.
Save Maintenance
This electric servo motor technology also means less maintenance because of the decrease of hydraulic components.
Learn More
Shibaura Machine is committed to helping customers maximize resources and maintain a competitive edge. 
Contact Shibaura Machine Company, America's die casting team to learn more about how the E-series helps accomplish these goals.
Watch the E-Series in action: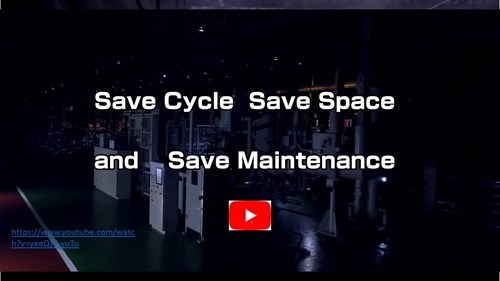 Contact us today to learn more
Want to know more about our machines?