Shot Cylinder Construction is More Important Than One Would Think
ELK GROVE VILLAGE, IL, April 15, 2021 - 
Have you ever heard the saying that too many cooks in the kitchen spoil the broth? This expression can also be applied to die casting machine shot cylinder design. 
Consider early generation and many current-day die casting machines, the conventional design has been to bolt numerous pipes, fittings, and hoses at the shot end to move the cylinders (See picture below). What was supposed to be a simple cylinder pushing metal into the die has suddenly turned into a convoluted mess of too many components and connections. All of this makes it easier for the machine to break down, leak oil, and require more maintenance.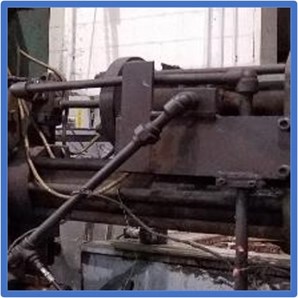 Shibaura Machine decided there had to be a better way. A way that will not only mean less maintenance and downtime, but increase the durability of the die casting machine. With this idea in mind, since the 1970's onward our team has modernized our die casting machine shot cylinder design.
The Benefits of Turning Many into One
Shibaura Machine was looking to the future when they updated the design, in doing so it reduced points of failure while improving machine lifespan. Moving away from the conventional cylinder "messy design", Shibaura Machine started using a single large casting  to house the moving elements. The auxiliary pieces and hydraulic valves are then bolted onto the casting. 

This modern design ensures:
Less possible points of leakage by reducing connecting points 
Maintenance greatly reduced and the casting makes overall maintenance easier
More durable, heavy weight system to offset the heavy vibration from shots improve machine life
Many machine builders today still stand behind the conventional cylinder design in the die casting machine shot end. However, a big problem with this conventional design is that it forgets about the future. Many of these shot ends use welded pipes and bolted on components resulting in a higher probability of failure every day. Numerous connection points leave a higher likelihood of leaks and issues. Also, these lower weight cylinders take in the heavy shot vibrations and extremely high hydraulic pressure, not being a good combination for components' life. All of these factors can hinder your investment.
Machines Designed to Last
Contact our die casting machine team to learn more about our industry leading innovation and put it to work for your factory.
Want to know more about our machines?