Die Casting Machine - Ease of Use: The TOSCAST controller provides easy visibility of real-time machine status
ELK GROVE VILLAGE, IL, February 19, 2021  
Die casting still proves to be the most accurate option when it comes to complex cast metal products. However, it is complex process that involves molten metal, high pressures, critical temperature control, and a very specialized machine.
What if you could take some of the complexity out of the die casting process? Shibaura Machine understands the challenges our customers face when it comes to the complexity of die casting and has developed the TOSCAST Production Monitoring system with them in mind. TOSCAST offers a wide range of sophisticated functionality to boost the productivity of your entire die casting cell. We will be exploring how the easy to understand motion page within the TOSCAST system allows for manufacturers to improve cost competitiveness.
Boosting System Productivity & Efficiency
TOSCAST system allows even operators with basic knowledge of die casting to be able to understand what the machine is doing. When designing the system we opted to use words and not just international symbols to describe functions and parts. Specifically, the motion page allows you to monitor and immediately know the status of numerous points of data to ensure high precision with minimal complexity.
The TOSCAST motion page includes:
Easy to Read Elements
Understand the status of the machine elements at a glance. Cycle to cycle information is presented in an easy to read format, green and red are used to indicate on and off, and common icons present the machine operating conditions for switch and solenoid states. 
Real-Time Data
Numbers such as pressure and position data update as the physical machine moves in an easy to read format. This makes it easier for the operator to diagnose actual changes in status and position.
Equipment View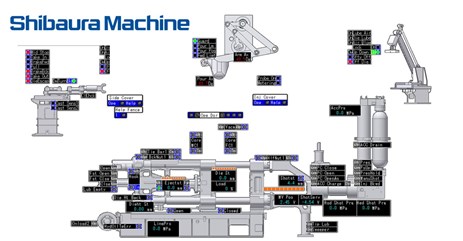 The motion page allows users to not only view the base machine, but also the auxiliary equipment (above image). The division of the Toscast screens makes date input and machine information easy. At a glance operators can understand the conditions of the machines, allowing for improved repeatability and the highest precision.
Reducing Die Casting Complexity
TOSCAST offers a variety of digital options to give operators better visibility of the machine. The user-friendly design can also be found on the color coded control pages that make the setup, monitoring, and maintenance screens all easily accessible. We will further explore these TOSCAST screens in upcoming articles. 
If you are interested in learning more about how the TOSCAST Production Monitoring System can improve your factory productivity contact our team today.
Want to know more about our machines?